Growing up in Sweden, I used to help my parents stuff envelopes for various environmental organizations in which they were volunteering. I learned to conserve, and share with others, long before I even entered kindergarten. I remember sharing with my daycare staff and friends "the peregrine falcon is endangered, and we need to help restore it" and distributing stickers of the pretty bird to everyone. This is an image of that sticker- I still have some!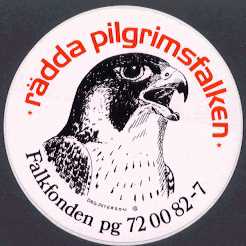 I have shopped for eco conscious products for my home and tried alot of different brands, most did well, but not great. Then I met Shaklee's Basic H, and fell in love! This is the greatest cleaning product I have ever used. I have fallen in love, again and again, with Shaklee products and am so pleased to be in a position to share them with others.
I feel truly good about joining the Shaklee family not only because they have a great eco conscience, but also because their products are incredibly safe, and has undergone tremendous testing- super important for the well-being of my family and pets. Shaklee Corporation was the first company in the world to be certified Climate Neutral by the EPA- a company worthy of admiration.
I am so glad, and proud, to be partnered with a company that helps reduce my family's eco footprint! I hope I can inspire you, and many others to do the same.
In addition to helping green my world, Shaklee has provided me the opportunity to work from home, be my own boss, and make an income, just by sharing this amazing company and its products with others. This is what I call a Win Win Win Win.
When you are ready to green your world, and join my growing team- send me a message, or call me, and I'll get you started on the right path!